Latin America dominates the Americas (ex USA) ranking, accounting for seven of the 10 firms, compared to five last year. But it is Canada's Craft Public Relations (+72%) which takes top spot, after coming in second one year ago. Two Argentinian firms follow, with Agora (+50%) in second place and Urban Grupo (+44%) ranking third.
In fourth place, Mexico's Another grew by 39% to crack the $10m barrier, while fifth place sees the largest firm on the list and the first Brazilian contender, in Grupo Inpress, which jumped 38% to $42m. Another Brazilian firm, Grupo CDI (+36%), ranks sixth, ahead of perennial fast-grower and Canadian Agency of the Year Argyle, which grew 34% to $17m in 2021.
Costa Rican Ketchum affiliate CCK (32%) takes eighth place to feature on this ranking for the first time, while Brazil's Approach is ninth after 30% growth. Canada's aptly-named PR Associates (+22%) rounds out the top ten, which also marks the first time the Americas has expanded beyond a top five.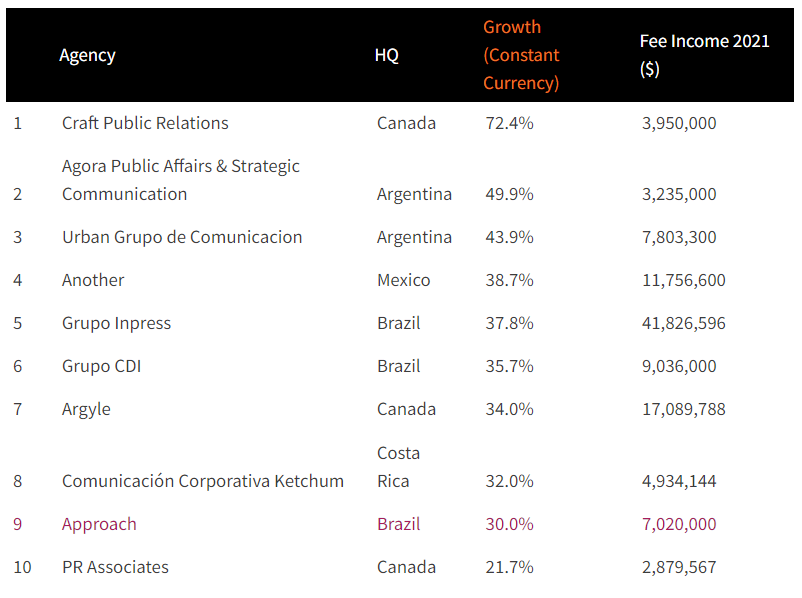 Source: https://www.provokemedia.com/ranking-and-data/global-pr-agency-rankings/2022-pr-agency-rankings/fast-movers